A music theory teacher in Indiana lost his job because he refused to address transgender students by their preferred names and pronouns. Despite his objections, a federal judge agreed with the lower court's decision that the school district did not infringe on his rights.
    John Kluge, a previous teacher of Brownsburg High School, filed a lawsuit against the school district, claiming that he was subject to religious prejudice. This occurred after he stated his personal religious beliefs and declined to follow the name and pronoun regulations when addressing transgender students. Instead, he chose to refer to them by their last names.
    According to The Associated Press, the school district initially agreed in 2017 to allow Kluge to use last names to address students when implementing the policy.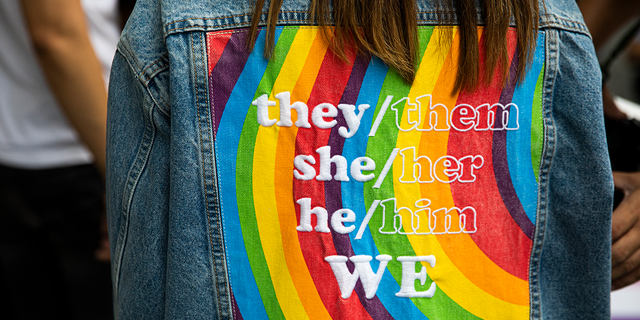 In Bangkok, Thailand on June 1, 2022, during the kickoff of Pride Month at Central World Mall, an individual was spotted wearing a jacket that featured gender-neutral pronouns at a Rainbow Runway for Equality event. ((Photo by Lauren DeCicca/Getty Images))
     A few students claimed that this action led to an unpleasant learning environment and targeted individuals who self-identified as transgender, causing them distress.
     Kluge stated that he resigned from his position in 2018 as the school reviewed its policy on surnames and informed him that failure to adhere to the preferred name and pronoun regulations would result in his dismissal.
     According to AP news, he filed a lawsuit for workplace discrimination a year after leaving his job. He received assistance from the conservative legal organization Alliance Defending Freedom and is seeking unspecified monetary damages along with reinstatement at his former job.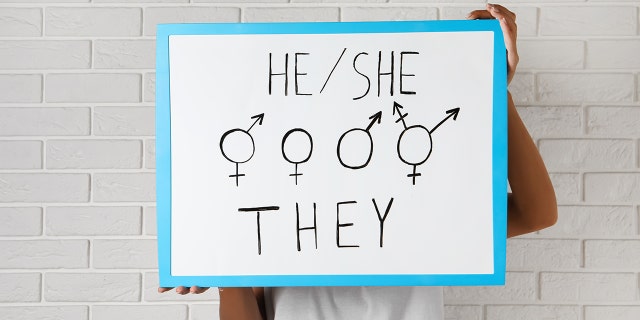 A female is standing beside a white brick wall with a sign that contains gender pronouns and symbols. (iStock)
    On Friday, the 7th U.S. Circuit Court of Appeals in Chicago concluded that Kluge's firm beliefs on the matter of religion caused disruptions in classroom activities. They upheld a previous decision by a federal judge in Indiana which stated that Kluge's refusal had put an excessive burden on the district.
    The school showed that providing the requested accommodation would have had a negative impact on the education of transgender students in Kluge's classes, and would also have had a detrimental effect on the overall learning environment for these students as well as other students in the school. Based on this evidence, it is clear that Brownsburg had a valid reason for denying the request. The court's opinion stated that the school was meant for both students and teachers.
     However, he was dismissed from his position because of his personal beliefs which is a violation of Title VII. According to Kluge's lawyer, Rory Gray, this action was illegal and goes against the purpose of Title VII which aims to protect employees from being coerced into giving up their beliefs just to keep their jobs. Despite making an effort to accommodate all his students and treat them equally, Mr. Kluge was still terminated solely on the basis of his beliefs. The school district allowed this adjustment out of consideration. However, they still proceeded to unfairly penalize Mr. Kluge for his faith-based convictions.
      Another example is that of Nicholas Meriwether, a professor at Ohio's Shawnee State University, who was disciplined for not referring to a transgender student by their preferred pronouns. These cases highlight the ongoing debate over transgender rights and the clash between free speech and the right to gender identity expression. In recent times, there have been similar cases of school authorities receiving punishments for not complying with certain policies related to using names and pronouns preferred by transgender individuals. One such incident involves Peter Vlaming, a former teacher who claimed he was fired by Virginia West Point School District due to his refusal to use pronouns that did not match students' biological genders. Additionally, Nicholas Meriwether, a professor at Shawnee State University in Ohio, faced disciplinary action for not addressing a transgender student by their desired pronouns. These examples underscore the ongoing discussions regarding transgender rights and the conflict between free speech and the freedom of gender identity expression. Match the gender of a student based on their biological sex, as well as former teacher Vivian Geraghty who also claimed the same thing about her school district in Ohio.
The Brownsburg Community School Corporation stated that they cannot make any statements regarding ongoing lawsuits, while Rory Gray, Senior Counsel for Alliance Defending Freedom, issued the subsequent statement.
The recent decision made by the 7th Circuit highlights the need for the Supreme Court to address and establish a clear standard for accommodating employees with religious beliefs under Title VII. This issue could potentially be resolved in the upcoming Groff case, set to be heard later this month. concerned about the practice of pressuring employees to give up their beliefs in order to keep their jobs. However, in this specific situation, Mr. Kluge made sure to accommodate his students and treat them respectfully despite his personal beliefs. Despite this accommodation being approved by the school district, Mr. Kluge was unfairly punished for practicing his religion. Assessing the subsequent actions to take in this scenario.
This report was assisted by the Associated Press.